Patterbuzz - Your Content Your Way
My brother, Amit Goel, has founded a startup "Patterbuzz" which is aiming to disrupt the digital publishing marketplace. Read on for details about it in his words. I can assure you that you don't want to miss out on this whether you are a publisher or a consumer :)
Welcome Offer: Download the app and register your account before 15th December and get 100 Credits FREE!! to download the content of your choice.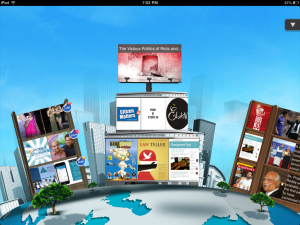 Patterbuzz enables users to read premium content on their mobile devices and pay for only what they wish to read. So, If you wish to read only a cover story of a magazine, you do not need to buy a magazine for Rs 100/-. Instead,  you can pay Rs 5/- for only the cover story and read it on your iPAD in an rich and interactive way. this means Patterbuzz wants to unbundle content packaging and let users buy what they wish to. Patterbuzz introduces a digital wallet for the users to make purchases easier and in a pare-paid pay as you go model. In short, we want to be iTunes of publishing industry. This is a unique business model and we are the first ones in India (probably the world) to create this kind of platform for premium content publishing on mobile devices.
We, at Patterbuzz, believe that there is huge premium quality indian content which is not easily available, especially in magazines and independent publications / writers which goes unnoticed in the whole world due to focus being majorly on US / UK markets. There is sizable indian/asian population outside india who wishes to read the magazines/independent content from India but they can't find it on any platform. Apart from top Tier indian publications, 90% of the rest of indian publishers cannot reach global audience. Hence, with this background patterbuzz was created.
Now, Patterbuzz is trying to make content easily accessible to users in best way possible on mobile devices because that's where users are reading more. Patterbuzz app does not just publish magazine PDFs like the rest of the world, they enable the regular print magazine content on digital format in an interactive way. And users can buy whatever they like. Patterbuzz is the only platform(as far as we know) offering unbundled content where a user can buy an individual article rather than purchasing an issue or subscribe to whole magazine. He can see a slideshow of images in an article or like, share and rate an article.
There is a huge roadmap in terms of features and more monetization options. We are looking forward to create a complete new kind of advertising offerings for premium content leveraging offline advertisement sales systems and apps on all other devices in the next 6-8 months timeframe.
We already have 7 magazines on board as launch candidates and many other magazines are in pipeline. Our application just released a few days ago on 3rd Dec 2013 and we believe it will be great for us if you can review our app and let the world know if you like it.
Please download the app from https://itunes.apple.com/us/app/patterbuzz/id588682264?ls=1&mt=8 or search "Patterbuzz" in Apple App Store. The link is also available on our website http://www.patterbuzz.com.
Our facebook page is https://facebook.com/patterbuzz and twitter handle is @patterbuzz
Founder information :
Amit Goel
Founder & CEO, Patterbuzz
Linkedin: http://in.linkedin.com/in/amitreversed/
Twitter: @amitgoel1287
Email: [email protected]