TIP: Make Those Linux Samba Shares Accessible From Windows Mobile
If you have ever needed to share files between your Linux and Windows computers, you have obviously used Samba, and have been quite happy with the way it seamlessly provides access to and from shared folders/files from Windows and Linux. However, many people complain that although their smb/Samba shares are accessible from Windows, they are not able to do the same with their Windows Mobile devices. e.g., using a tool called "Resco Explorer" on Windows Mobile, all they get while searching for their linux based Samba shares is the following screenshot: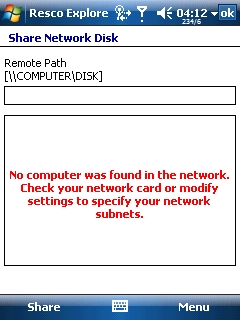 Well, there is no big magic trick to get an access to those shares, as they are already accessibly. You just need to do one more teeny little step to access them.
The trick is that on Windows Mobile it will not detect your computer as having a shareable folder and will not show it, and it will thus not show a list of shared folders. So, what you need to do is enter the path to the folder you want to access. e.g.: If your computer's name is "MyComp" and the folder you want to access is "MyFolder", then you need to give the path "\MyComp\MyFolder" to the application on Windows Mobile from which you are trying to access your shares and it'll connect without any problems. Of course, it'll ask you for your username/pwd for which you need to enter your linux user name and password. Below screenshots tell you how to do this with Resco Explorer, however the same method can be used for other applications like Total Commander, Windows Mobile File Explorer, etc as well.
1) Enter Path and click share.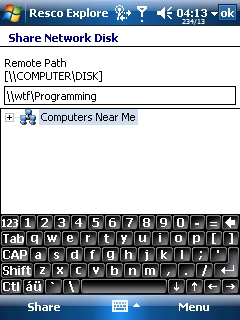 2) Enter User Name / Password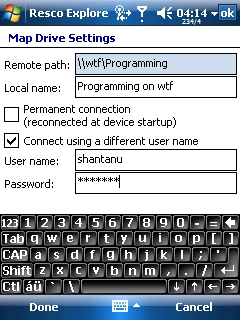 3) Its done :-)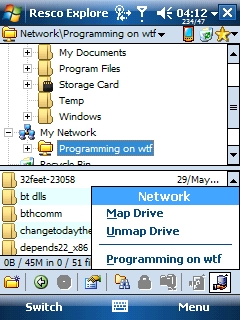 Let me know if you face any issues with this.